Abrasives for achieving finest stainless steel mirror finish

Stainless steel polishing process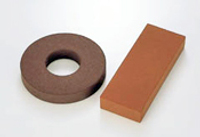 Stainless steel polishing and grinding is known as one of the most difficult projects. This is because most stainless steel polishing requires a mirror-like finish devoid of even the slightest of scratches or pinholes. The polishing process usually consists of 3 to 7 (or more)process depending on where you start from.
However, each project for stainless steel polishing and grinding is similar in that just a single tiny scratch exceeding the aforementioned grit size cannot be endured. If you leave a scratch or are unable to grind the surface enough at that grit, those scratches remain in post-process and become irreversible. In order to remove them, you need to begin all over again. Therefore, people who engage in stainless steel polishing often suffer in a strait condition.
What makes stainless steel a difficult material to polish?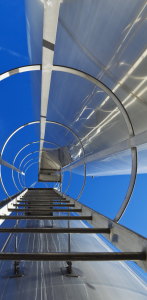 Stainless steel, also referred to as SUS, is basically an iron that contains Cr and Ni, which are resistant to rust, wear, and corrosion. The differences between these added materials and their ratio in relation to one another determines the grade and characteristics of the stainless steel. Generally speaking, Cr is responsible for the hardness and Ni or Mo enhance the anti-corrosion capacity. As you can easily imagine from these characteristics, stainless steel is difficult to process with any method.
Nevertheless, due to these characteristics, stainless steel has added value that can be applied to many kinds of industries, so stainless steel polishing methods and abrasives have been developed to accommodate these special circumstances.
What kind of abrasive suit to stainless steel polishing and grinding?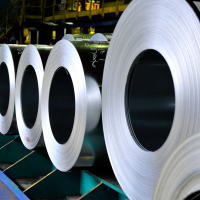 In terms of abrasives for stainless steel polishing and grinding, there are some grains that interact well with this material, including white alumina (WA) and Green carbonite (GC). There is some debate among experts about which is superior for stainless steel. We observe these differences during the polishing process. The shape and friability are different, but basically both grains are in practical use. We have applied WA due to its cutting power as compared with that of GC. The reason why cutting power is needed for stainless polishing will be explained below.
In terms of selecting an abrasive for stainless steel polishing, it is often pointed out that abrasive that are sticky and have a high viscosity are not appropriate for this usage. This is related to the relative hardness of the stainless steel, which is softer than glass or stone. Abrasives need to "cut" the surface in order to achieve the fine surface.




Two major characteristics that make stainless steel polishing and grinding difficult are as follows.
Work hardening

This phenomenon has been observed during the process in which a certain amount of stress has been placed on the metal surface. Placing stress on the metal, in any form, can cause the hardness of the metal to rise. This is why stainless polishing cannot take a long time. Once the surface becomes hardened, the polishing will be much more difficult. Therefore, before the hardening occurs, you need to move onto the next grit.

Passivity

The term stainless steel is self-explanatory-steel that is resistant to rust and stain, mainly due to the oxide layer that coats its surface. Each time the oxide layer breaks, the stainless surface quickly restores it, thereby avoiding rust. So when polishing the stainless surface, you need to finish polishing before the oxide layer reverts because this layer is hard enough to be obstacle to polishing.
Due to above characteristics, abrasives that have high cutting power are the only choice for stainless steel polishing,
RWA: Abrasive for polishing stainless steel

We have developed an abrasive that is especially suited to stainless steel polishing. The abrasive consists of a resin-based bond and white alumina grain. It is called RWA, and can be applied to both a CNC machine and a hand polishing machine. Round or block, either type can easily cut or make a groove according to your polishing conditions.
Applicable materials
Stainless steel(SUS), Titanium alloy, Aluminum alloy
Process
mirror polishing process, non-ferrous metal
Product size
φ150 mm(Outer diameter) × 25 mm(height) × φ64 mm(Inner diameter)

φ200 mm(Outer diameter) × 30 mm(height) × φ90 mm(Inner diameter)

Block type: 200 mm × 75 mm × 30 mm
We also offer hand polisher type which fit into electric hand polishing machine or air polisher.
Grit
80, 120, 180, 220, 320, 400, 600, 800, 1000, 1599, 3000
Alumina powder for finishing stainless

We also offer an Alumina powder abrasive for final finishing. Achieving a mirror-like finish, (also known as a No. 8 finish), usually requires a powder abrasive. When it follows the RWA process, Alumina finishing will make stainless surfaces shine. The RWA process is especially important because this powder cannot remove large scratches.