Marble floor cleaning method
Can't get back the beautiful surface of marble floor? Here's a solution for professionals.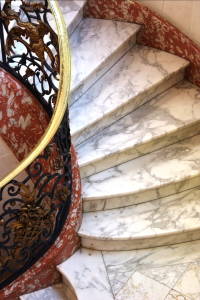 Traditionally, for stone maintenance such as cleaning marble floor, sweeping, wiping, and waxing were common ways to keep a stone floor clean and shining. Although these "basic" steps are still considered important, it is known that in some cases, especially marble floor, these methods sometimes do not work as expected and it becomes impossible to get back the earlier beautiful gloss of a stone floor.
Many stone care pros and stone restoration experts are aware of the fact that clients do not need ordinary cleaning. They want to change the deteriorated surface of a stone floor to the one that impressed them when they first saw it.
The deterioration of marble floor surface begins from the very first day when it is built. Although carefully treated, floor after all is used as a walking passage in most cases. Dust particles, water, and many other factors harm the surface condition of marble.

Get rid of the scratches on the marble floor!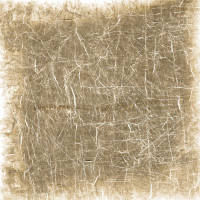 The main causes behind the deterioration of the shine on a stone surface are tiny "scratches." Although they are barely seen, if you take a close look at a stone floor that has lost its shine, you will be surprised at the number of scratches. However, only by sweeping and wiping using detergents or chemical agents, you cannot remove the tiny scratches that are often found in great numbers after many years of use.
There are several types of detergents, chemicals, and coating agents for stone floor. However, none of them can remove tiny scratches spread all over high class marble floor. The term "gloss," after all, is a concept related to light and does not pertain to surface roughness or scratches. Waxing is a popular treatment and we know that in most cases, it is indispensable. However, this always does not apply to natural marble floor that has lost its shine. Polished natural stone floor itself has an extremely fine surface, which usually does not need any additional chemicals to make it shine. As many professionals claim, waxing used for producing superior natural marble floor surface sometimes makes the marble look cheap and "artificial."

Be careful with that detergent! It may harm the marble!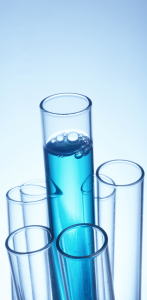 As compared to granite, marble has a soft surface and is sensitive to acid. By this characteristic, polishing marble needs low pressure or power than granite but care has to be taken when using chemical agents such as rust removers, coating agents, sealants, and detergents. Even spilled orange or lemon juice leaves stains on bare marble surface.
The polishing pads that we offer include high grade diamond, and owing to a long period of practical use in marble slab factories, we have the required know-how. Our polishing tools for marble have proven to be of one of the highest quality in the world by many professionals.
The surface gloss of marble floor will deteriorate if adequate steps are not taken to keep it shining. However, even if you do clean regularly, the shine of marble floor surface will be damaged by frequent passage, water, or dust, which is inevitable in hotels, airports, building hallways, stairways, entrances, bathrooms, wash basins, and just about everywhere.

One more important factor when considering marble stone care is that every type of stone has the characteristic of water absorption. This is because stone has a porous structure. Hence, regardless of the type of stone-terrazzo or engineering stone (artificial stone)-it is impossible to avoid scratches and water absorption. Marble floor has a unique design with premium accents that foster a feeling of well-being and nobility. Without its shine and clean surface, nobody will recognize its beauty.
Tired of polishing marble frequently? You can reduce your work time.

If you are already a practitioner of marble floor polishing but wonder "why doesn't this shining surface last for long?" or "I'm tired of polishing and cleaning the marble all the time," you might be using a polishing method called "crystallization."
This method usually applies to marble floor because in this process, a diamond pad is used only in the beginning to smoothen the surface of the floor and after that, a cheap polishing pad that has no diamond or powder-like abrasive is used to finish the surface. This process simply makes the floor shine on a temporary basis. The actual surface roughness is not really good because for the middle to finishing processes, a polishing pad does not grind down the surface enough.
To obtain glaze, a method called plastic flow is used on the surface. Because of (1) the marble color being mostly close to white and (2) light that reflects, after crystallization, it seems as if the brightness of marble floor is restored. However, this disguise easily comes off by foot passage.
As compared to frequent "crystallization," our method can reduce your polishing time and money in the long run. If the shiny floor lasts for long, it will appeal to customers for a longer period of time.

Cleaning marble and travertine floor with detergents

In some cases, polishing does not solve customers' problems or help achieve customer satisfaction. To enhance the polishing result and to solve the problems that cannot be solved by polishing, we offer chemical products. Chemical agents can be classified into two types by their application for natural stone: preventing and removing.
1. For preventing dirt, dust, and water

By coating the surface with transparent chemicals such as sealants and coating agents, polished surface can be protected from dust, dirt, and water.

2. For removing rust, stain, and other materials adhered to marble floor

Even if you carefully treat the marble floor surface, with time, surface sealers wear off and scratches spread all over the marble surface. In this condition, rust or stain easily penetrate the stone surface.
Depending on the depth of stain and rust, there are several types of chemicals that remove these types of unwanted surface stains.