Tile cutting blade | Turbo cutter series for accurate tile work
For accurate tile cutting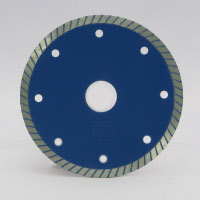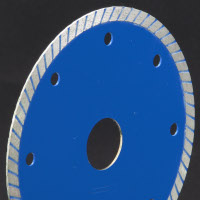 Considering about accurate tile cutting work, blade and chips must be designed for such specification to fulfill the requirement. This cutting blade for tiles and granite can achieve most of the high accurate standard in your work place.
Also fabricating a line on granite surface or tile will be much easier task by using this tool. Close to continuous chip, the accuracy for this tool is higher compare to segment chip type which usually focuses on high cutting power. But the point is that this tool's chips are not typical continuous rim. There has been some modification applid to increase the cutting edge so you don't need to worry about the cutting edge either.
The size of outer diameter and center hole can be adjust according to your requirement.
| | |
| --- | --- |
| Outer diameter D(mm) | 4"(100 mm), 5"(125 mm), 6"(150 mm), 7"(175 mm), and 8"(200 mm) |
| Inside diameter C(mm) | 20 (Can be changed according to your request) |
| Thickness T(mm) | 1.2 |
| Hardness | TC3 |
| Applicable machine | Disc grinder, other tile cutting machine or stone cutting machine |