Model 8 | Granite polishing disc for radial arm polishing machine
Light-weight conventional polishing discs with resin embedded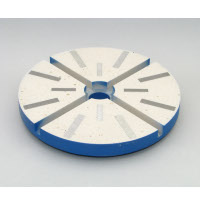 We have applied aluminium as a backing plate for weight saving and as a result total weight has been reduced 50 percents compare to ordiary cast metal plate polishing disc.
The bond which has sharp cutting edge had been adopted for continuous production without loading.
In order to avoid chipping and cracking of granite or marble stone, we have applied resin filler to embedd clearance of abrasive chips.
Outer diameter
D(mm)
Inner diameter
C(mm)
Base plate material
Number of Chips(N)
Grit
125
25.4
Aluminum
6
50
60
80
100
200
400
150
200
12