Superfinishing stones for bearings, shafts, rollers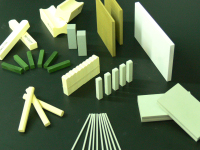 Superfinishing or "super finishing" is the process applied at the final end when making as fine and smooth surfaces as possible for metal parts, such as raceway surface of bearings and shafts. The main reason why super finishing stones are applied in the final polishing process is to reduce the friction caused to the metal, which leads to its constant wearing out. Wear often leads to the degradation of the metal parts. Data shows that bearings with or without superfinishing appear to have completely different life spans. This is critical because in most part, these kinds of auto-parts desired stability. For mechanical parts, which require less friction, this super finishing process is indispensable to maintain their functions.
A super finishing stone comprises a piece of small block usually tailor-made for the user's application, and each size varies depending on the work materials. The leading end of this stone can be fabricated into a concave round or round shape depending on the work materials. This is similar to the honing process but distinct because of its particularity. Conventionally, a superfinishing stone is also considered a honing stone.




WA(Aluminum Oxide based) has sharp edge
GC(Silicon Carbide based) contains hard abrasives to give fine surface
EP(WA with special modification) is for roller, through feed processing
CBN(Cubic Boron Nitride) has unique characteristic on life. Affective for miniature bearing processing etc.